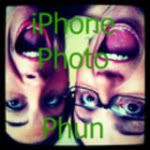 I am making the switch from Wordless Wednesday to
Iphone Photo Phun, hosted by Taming Insanity
. (No there are no coincidences in the fact that we both have the term
insanity
in our blog names and we both are currently preggo!) This is much more fun because let's face it - I ALWAYS have my life, er Iphone, with me and thus record a lot more of our family's shenanigans with it than my beautiful, expensive, large-and-doesn't-fit-well-into-any-purse-I-have DSLR camera.
We went to the coast a couple of weekends ago to visit grandparents. The Drama Queen rejoiced in the sand beneath her bare feet.
I took this self-portrait when I got bored of watching the kids do the same old cute things. Don't be jealous if you can't get that same wind-in-your-hair look. For some of us, it just comes naturally. . .
We enjoyed hamburgers at the Nerd's company picnic on Saturday. Never mind that the hamburgers were larger than the Spud's head.
Here is a shot of the "Chair Lift of Terror" I talked about
in my previous post
. How I had the presence of mind to ever pull out my Iphone and get this picture will forever be a mystery.
The kiddies got to drive around on mini-go-carts. The poor Drama Queen crashed into the siderail at every turn, hitting the gas instead of the brake. She is destined to be as great a driver as her mother. (and by the way, the Nerd gets to teach her how to drive when she turns sixteen. I'm not getting in the same vehicle as her when she starts driving!)
Here's a photo in which I tried to persuade the kids to pose sweetly together in front of Mt. Hood. yeah, don't come to this blog if you're looking for stunning family photography.
And that was our week or so in Iphone photos. Of course I didn't take photos of the Spud stealing cheese from the fridge and placing several bitemarks in said cheese before returning it to the fridge. I also did not choose to capture a photo of the boys shredding a wet diaper and then strewing it all over the living room. Nor did I wish to record in picture form the memory of the boys smearing glue stick all over the living room furniture. Just in case you were fooled by the photos above and thought we were a "normal" family. . .